Using Customs Handling of Import and Export Freight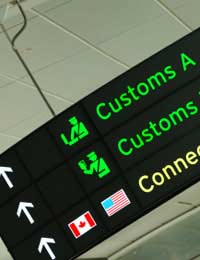 Customs requires that your business tracks the international transport of all freight you send to an overseas customer. Every one of your international consignments must be logged on the CHIEF (Customs Handling of Import and Export Freight) system. It doesn't matter what form of transport your freight uses, you must still complete the necessary customs declarations.
CHIEF is a Government service. As such your business can register to use the system via the Government Gateway online portal. This is the same website where your business may have registered for VAT returns, or to set-up online filing of your self-assessment tax form. Note that CHIEF is closely associated with NES (National Export System) that is the service your business will actually use to log all of its freight transport to international customers.
How CHIEF Works
To enable you to operate your international business effectively, ensuring that every piece of freight has its accompanying customs declaration attached, you or an agent working on your behalf must register with CHIEF and consequently with NES as well. CHIEF not only calculates the amount of any customs duty your business has to pay, it also alerts customs officers at border crossing to any freight that needs to be checked or that may need special documentation before it can clear customs.
Your business is not compelled to use CHIEF, but taking the time to register via the Government Gateway will enable you to operate a more efficient international freight business. Note that you can just register to use NES to generate your customs declarations, but you will find it much more convenient if you also set-up an account on CHIEF as well. CHIEF itself is designed to allow your business to efficiently trade with EU (European Union) and none EU countries.
Communicating with CHIEF
You can send details of your international freight manually to HMRC (HM Revenue & Customs), but the usual means of communication with system is electronically. Your business has a number of options when setting up an electronic link to CHIEF and NES that include:
Full access to CHIEF via an account you set-up via the Government Gateway
XML (Extensible Markup Language) is a computer language you can use to link your business's systems to CHIEF. More information is available about this option on the HMRC website
Community Systems Provider (CSP) is a third party that can access CHIEF and NES on your behalf.
Email can also be used to contact CHIEF
In all cases you should consult with HMRC about which option would best suit your business. If you decide that direct access to CHIEF is best for your international operations, you must complete form PA7.
CHIEF and NES
The customs declarations you must assign to each of your international freight consignments are logged with the NES system. To use the NES platform in your business to track each package you transport, your systems must meet minimum technical requirements that include:
Your computers must be using the web browser Internet Explorer 5 or above
You must have a connection to the Internet
You must have an email address
A TURN (Trader's Unique Reference Number). If you don' have one of these yet, it is your VAT number plus a three-digit suffix. You will need to set-up your VAT account first before a TURN will be issued
Your CHIEF 'role' that you were sent when opening your CHIEF account. Contact the NES helpline if you don't yet have a role
Your digital certificate. This should have been sent to you when you contacted the Government Gateway to open your CHIEF account
Note that from 2010 there will be some changes to the CHIEF system. The aim is to replace the CHIEF system to comply with new EU legislation. You can read more about the changes on the HMRC website. Until actual changes take place, your business should still use CHIEF in the normal way.
You might also like...