Checking Credit Rating of Overseas Customers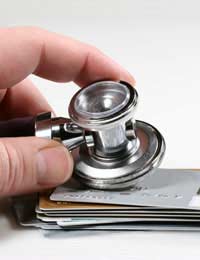 As it is likely that your overseas business will have to extend credit terms to its customers, you must check the creditworthiness of each client. Credit checking is vitally important in your UK business, but doubly so when selling overseas. Because your client could be on a different continent you have to be confident that they will settle their outstanding invoices. One way of protecting your overseas business from bad debts is to only being selling to reputable companies. You can gauge that reputation by looking at their overall credit rating.
Checking Credit Scores
Just as you can check the credit history of a business based in the UK via many credit checking agencies that offer these services, you can perform similar searches overseas as well. The British Embassy in the country you are selling within can help with contacts. Also, the UK Chamber of Commerce and UK Trade & Investment can be great sources of information about credit checking services in various countries around the world. The Business Credit Management website also lists credit checking companies around the world.
Your Credit Checks
The credit checks your business should perform as the normal operating procedure within its overseas office should answer the following questions:
What is the registered business address of the business?
Has the business submitted full sets of accounts?
Is the business solvent?
Can the business provide financial guarantees if you request them?
Does the business have any disputes against it, especially for late payment?
Can the business provide a number of customer references?
Protecting Your Business
The credit checks that your business should do on all its overseas customers before selling any goods or services to them is your first step. You can also protect your business by taking out insurance against bad debt. Your business has a number of options it can use to protect itself against late or none payment from overseas customers:
Export credit insurance
Even if your overseas customer passes all of your credit checks, you can still take out export credit insurance that can protect your overseas enterprise against none payment. BIBA (British Insurance Brokers Association) website can put you in touch with a broker.
Bond insurance
Your business may find that its overseas customer has generally a good credit rating, but you may still be uncertain as to whether they will actually pay their debts. In this instance you can use bond insurance. Your business asks its customers for a guarantee against possible none payment. The ECGD (Export Credits Guarantee Department) within BERR offers this type of insurance to overseas businesses.
The ECGD can also offer your overseas enterprise general export insurance that should cover up to 95 per cent of any losses you may have because of bad credit. This type of insurance usually applies to plant and machinery your business is selling overseas.
The credit checks you perform before extending any credit terms to your overseas customers can't be stressed enough. The time and effort you put into profiling new overseas customers will ensure your business is able to avoid bad debts and potential issues with chronic late payment that is often a symptom of businesses with poor credit ratings.
You might also like...