Understanding Community Transit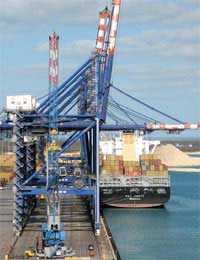 When your business begins to export goods that are intended for countries within or outside of the European Union (EU), you must be aware of what is called Community Transit. Community Transit is linked to the customs procedures that govern the movement of goods to EU and none EU countries.
The idea behind Community Transit is to allow goods that are not in free circulation (i.e. goods that have originated in a none EU country) to be moved between EU Member States without the need to pay import duty each time the goods enter a new EU country. You can read full details of how Community Transit works and how this impacts on the goods you export on the Europa website.
The Community Transit system is also used to move goods between EU Member States and the EFTA (European Free Trade Association) countries. The EFTA countries that are affected by the transport of Community Transit goods include: Norway, Iceland, Liechtenstein and Switzerland.
Also, any country that is part of the Convention on Common Transit Procedure are also included as part of the EFTA. Note that there are special rules that govern the territories of Andorra, and San Marino. Consult your transport advisor or freight forwarder about how to handle Community Transit export to these regions. You can read more about moving goods to and from EFTA countries on the EFTA website.
Customs and Community Transit
Community Transit itself exists so that goods that you export can be properly accounted for regarding tax and duty. Remember that Community Transit only comes into play if you transport goods that are defined as being none community goods that are not in free circulation.
When your business moves none community goods between EU Member States the external Community Transit procedure will be used. This is also known as the T1 system. The T2 system logs the movement of goods that are in free circulation. You should also be aware of that are called special territories. These are countries that also attract Community Transit status when you want to transport or export goods to these destinations. Currently, the special territories consist of: Canary Islands, French Guiana, Aland Islands, Martinique, Mount Athos, Guadeloupe and Reunion. To transport goods to these locations you should use the internal Community Transit system. This is also known as T2F.
New Computerised Transit System (NCTS)
The NCTS system must be used by your business when you transport Community Transit goods. The NCTS system is operated by HM Revenue & Customs. The system logs each of your consignments as they move between EU Member States.
It is important to remember that you must not start the export procedure before you have logged your shipments on the NCTS system and have the unique movement reference number for each export.
Also, your goods must travel with the Transit Accompanying Document (TAD). The TAD will be checked by customs official at the destination country. You can get help with all aspects of NCTS from the NCTS help desk by calling: 01255 244709.
Forms and Documentation
Generally you will be able to make all of your customs declarations electronically via the NCTS system. However, when this system is not available because of a technical fault for instance, you can use paper forms as a replacement. This will mean you don't have to delay the export of your consignments.
The main export document that links to Community Transit is the SAD or Single Administrative Document. This is also known as form C88 and is the mainstay of international exporting. SAD can be used to log your shipments via the T1, T2 and T2F systems.
You should also be aware of form C 1600A that is used to log your consignments that are temporarily stored in a customs warehouse. And if you are using sea transport, document T5 or form C 1125 shows that the ship is authorised to transport goods under the Authorised Regular Shipping Service.
To ensure that your export business is always operating within the customs regulations always double-check the status of any goods you are moving within or outside of the EU. In addition check that the details you log onto the NCTS system are accurate and that your consignments travel with all their relevant documentation. Mistakes can lead to long delays and possible fines and penalties for breaking Community Transit rules.
You might also like...