Understanding Currency Exchange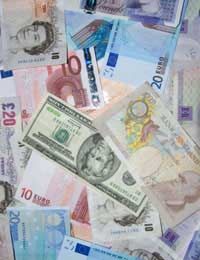 Overseas trade will mean that your business may have to manage multiple currency exchange. The profit that your business makes can be dramatically effected by the fluctuations in the exchange rates of the global money markets. To protect your business's finances from excessive currency exchange rate changes, you can put in place a number of systems that can enable your enterprise to better manage its overseas trade.
Currency Exchange Risks
The most dangerous aspect of currency exchange when dealing with overseas trade is that the price your business quoted to a customer suddenly become invalid. The time difference between when your business supplied the goods, and your invoice being paid could be substantial and see a huge change in the exchange rate of a currency.
Exporting goods also means your business has to decide what currency it uses to price its goods or services. You can use pounds sterling, but many of your customers may want you to quote in their own currency. Also, if your business will be trading with any of the countries that make up the current 27 EU Member States that have adopted the euro (Austria, Finland, Greece, Luxembourg, Portugal, Belgium, France, Germany, Ireland, Malta, Spain, Cyprus, Italy, Netherlands and Slovenia) you may find it advantageous to price your goods or services in euros.
Think carefully about the impact of selling or buying in a currency other than pounds sterling as your decision could have a profound impact on your business's finances and ultimately its profit.
How to Handle Currency Exchange
There are a number of processes your business can use to help it manage the impact of currency exchange on its finances. These include:
Opening a foreign bank account
Your business has two basic options when dealing with currency exchange. You can open a foreign currency account with your own UK based bank or open an account with a bank overseas. The former is advantageous as it enables your business to earn interest on deposits and have a UK bank to deal with. The later can help your overseas business as you can deposit funds and then wait until the exchange rate improves before converting your money to sterling.
Forward planning your currency exchange needs
A more complex option to handle currency exchanges within your overseas trade is to buy whatever foreign currency you think your business will need based on an agreed exchange rate. These are usually referred to as forward foreign exchange contracts. These contracts can be complex and your business must make careful decisions about how much foreign currency to buy and when. Consult a financial adviser that has experience with these contracts before setting these up for your overseas business.
Buying currency options
If you have looked at forward foreign exchange contracts and have concluded that they are not suitable for your overseas business, an alternative is to use currency options. These are a more flexible, but they are also more expensive and can have a major impact on your business's overall finances.
As with forward foreign exchange contracts your business agrees to buy or sell an amount of foreign currency. The difference with a currency option is that your business is not obligated to buy that currency as it would under a forward foreign exchange contract. Your business must pay a premium to have this flexibility. But if your enterprise operates in an overseas market that does often see high levels of currency exchange, these options could give your business the flexibility it needs to remain in profit.
You might also like...