Moving Goods by Road and Rail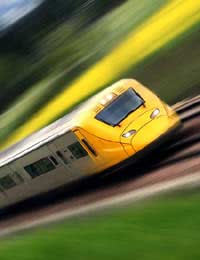 Road and rail are two of the most popular modes of transport. As the UK and many countries within the European Union (EU) have well developed road and rail networks, these methods of transporting your goods can be highly efficient and cost effective to use.
Transporting by Rail
The freight rail network in the UK is highly developed. Transporting your goods to the UK's ports can be highly efficient and cost effective when using rail transport. It is important to think through the entire journey that your consignments could take via rail to ensure this is efficient enough to ensure your goods arrive on time.
Transporting goods to Europe is now very efficient because of the Channel Tunnel. However, you must be aware that the onward journey once your goods are in mainland Europe could take some time, and involve the transshipment of your goods to several different rail operators. Setting up what could be a complex logistical process is where the services of a freight forwarder can come into their own. The key component of rail transporting is to be aware that it is more cost effective to ship large quantities of goods in a single shipment.
The Channel Tunnel
The Channel Tunnel is now an efficient transport route for all rail freight. Your business can in effect ship goods to their final destination using through trains that use the Channel Tunnel as their main route into Europe. You can also use what is called the Shuttle that enables road vehicles to be loaded onto trains for transportation through the Channel Tunnel. There are restrictions on weight and size of vehicles that can use the Shuttle service, so check with Eurotunnel website for more information.
Customs Clearance
Using the Channel Tunnel also means your business must handle customs formalities. Generally if you are transporting goods to any EU Member State, these shipments will be free from customs duty. However, if you are shipping goods that do require checks to be made before they leave the UK, these can be completed at the Folkestone terminal.
Documents and Paperwork
The main document that should accompany your rail consignment is the CIM consignment note. This document shows that there is a contract between you the owner of the goods, and the rail company that is transporting your goods. Ensuring the contents of the CIM note is accurate is important as it would be used to assess any insurance claim for lost or damaged shipments.
Transporting by Road
As the cheapest form of transport, road is the most popular method of exporting goods. With a wide-range of goods vehicle types available, your business has a huge choice when designing a transport system for its consignments. Most types of goods can be moved by road, but you must carefully assess the type of goods you will be exporting. Road is not the fastest method of transport, so is not ideal for perishable goods for instance. And always assess the road network of your goods' destination country to ensure this is of a high enough standard to ensure your consignments arrive in good condition.
The Channel Tunnel
Road transport to Europe was transformed when the Channel Tunnel opened. It is now possible to drive door-to-door with some destinations making it very easy to calculate costs when using road exporting to Europe.
Customs
As vehicles transporting your goods to their final destination could cross may frontiers, the TIR system was developed to reduce the delays that would be inevitable because of customs checks. With the TIR system, your goods are checked and sealed into their containers at your premises. They can then move across national boarders and into none EU countries without any further checks being made. A freight forwarder can set-up the TIR system for your business.
Documents and Paperwork
The main piece of documentation your business must be aware of is the CMR note. This indicates that the company transporting your goods via road has a contract with your business to perform their services. Be aware that the CMR note does not give ownership of the goods to the haulage company - your business is still responsible for the goods in transit. More details about the CMR note are on the UNECE website.
The Forwarders' Certificate of Receipt (FCR) is a relatively new document that can be very useful. The FCR is designed when multimodal transport has been used. The practical upshot is that you can use the FCR as proof of delivery and consequently ask for payment much faster than waiting to present your usual invoice.
If you are transporting dangerous goods, your consignments must be clearly marked with the UN Class numbering system. Also, each of your road consignments must be accompanied by a Dangerous Goods Note (DGN) that details the hazard associated with the goods being moved. The SITPRO website has more information about how to complete the DGN.
You might also like...