How to Transport Dangerous Goods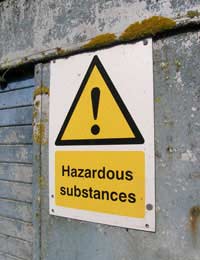 To transport goods that are designated as dangerous to an overseas destination will require your business to comply with a range of regulations. The most important aspect the transport of dangerous goods is to ensure they are correctly classified with each consignment's packaging labelled to identify the dangerous goods inside.
Dangerous Goods Safety Adviser
Every business that handles dangerous goods must appoint a Dangerous Goods Safety Adviser (DGSA). This is to comply with the Health and Safety at Work Act 1974. The responsibilities of the DGSA include:
Ensuring all safety measures are in place when dangerous goods are handled.
Making sure that dangerous goods regulations are met in full.
Writing an annual report that gives details of how your business has handled the transport of dangerous goods in that year.
Handling emergencies and accidents with dangerous goods when they occur.
All DGSAs must have a full qualification that your business must ensure is in place. This is a training certificate that includes a written exam. In England and Wales, the qualification is handled by the Department for Transport. In Scotland the Scottish Qualification Authority handles the DGSA qualification.
Classifying Dangerous Goods
When your business is packaging and then about to transport dangerous goods, you must ensure that they are correctly classified. It can't be stressed enough how important it is to get the classification of your dangerous goods correct. The handling, safe transport, packaging and unpacking all depend on a correct classification of your goods.
The United Nations have developed a set of what have now become universal classifications for dangerous goods that all businesses must now use. The UN codes give details of what is the main hazard associated with the goods that your business is going to transport overseas. You can download a full list of the UN dangerous codes from the UNECE website. The general UN codes your business must be aware are:
UN Class
Dangerous Goods
Classification
1
Explosives
Explosive
2
Gases

Flammable gas

Non-flammable, non-toxic gas

Toxic gas



3
Flammable liquid
Flammable liquid
4
Flammable solids

Flammable solid

Spontaneously combustable substance

Substance which emits flammable gas in contact with water

5
Oxidising substances

Oxidising substance

Organic peroxide

6
Toxic substance

Toxic substance

Infectious substance

7
Radioactive material
Radioactive material
8
Corrosive substances
Corrosive substance
9
Miscellaneous dangerous goods
Miscellaneous dangerous goods
Transporting Dangerous Goods
The transport of dangerous goods overseas will require your business to ensure that the correct documentation accompanies each consignment. Every shipment must have a dangerous goods note that gives details of the goods you are moving. You can obtain a dangerous goods note from the SITPRO website. The SITPRO website also has details about how to complete the dangerous goods note. Accuracy is very important so your transport company, freight handlers and customer all have detailed information about the dangerous goods you are moving.
Labelling your Dangerous Goods
All dangerous goods that are moved by any transport type must carry the internationally recognised dangerous goods symbols on their packaging. More information about these symbols is contained in the Control of Substances Hazardous to Health guide that can be downloaded from the Health & Safety website. Be aware that you may have to use different labelling if you want to transport dangerous goods to the USA. American has different labelling requirements for dangerous goods than EU Member States.
You might also like...