Moving Goods by Sea and Air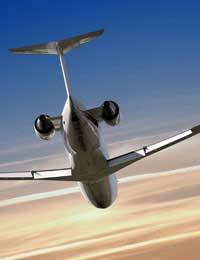 Using sea or air transport to export your business's products offers your enterprise a wide range of options. Sea transport can be highly cost effective when you need to transport bulky items, but this transport method is very slow. The opposite is true of air transport as this is the fastest method of moving goods, but can only handle a limited range of goods and is the most expensive form of transport.
Sea Transport
There is a wide range of vessels your business can use to move its consignments via sea. From the familiar container ships, to the bulk carries that move loose cargo such as minerals, there is a ship to accommodate whatever type of goods your business needs to move.
It is important to carefully match the type of goods you want to move via sea and the ship you will be using. There are for instance 20 different types of container now in use. The services of a freight forwarder can be of assistance in determining which type of container would best suit your goods. Proper labelling is vitally important to ensure your goods arrive at their final destination intact and on time.
Like road transport, sea transport can use a number of different routes to arrive at the same destination. Discuss your options with your freight haulage company or freight forwarder as cost savings could be made by choosing one route over another.
As well as the route your goods will take, be aware that the cost of shipping containers of goods is based on each container being full. Therefore, to reduce your costs always try and ship a completely full container of goods via sea. Normally no discounts are available for containers that are not completely full. If you need to export relatively small numbers of consignments, talk to your freight forwarder as they have vast experience of consolidating a number of business's shipments together into one container to save on costs.
Documents and Paperwork
The key document your business should be aware of is the Export Cargo Shipping Instruction. This sets out how your cargo should be handled. In addition your consignments must travel with either a Standard Shipping Note (SSN) if your goods are defined as none hazardous, or a Dangerous Goods Notes (DGN) if your goods are hazardous. Lastly your consignment will usually travel with either a Sea Waybill or a Bill of Lading.
Air Transport
The transport of goods via air is the most expensive form of transport your business can use, but it is the fastest. If you need to transport time sensitive goods such as perishable goods, air transport is ideal. It is important to be aware of the additional costs of airport terminal fees, fuel surcharges and any additional expenses for handling dangerous goods.
Generally, most air cargo is carried in the holds of passenger aircraft using scheduled flights. Your freight forwarder can help you prepare your goods for shipment via air. It is important that consignments arrive at the airport ready to load onto the aircraft that is expecting them. Special containers are used because of the unique shape of an aircraft's hold. You should be aware of this when packing your goods for transport by air. Note that you can read detailed guidance on how to move perishable goods on the Food Standards Agency website.
Security Requirements
There are strict security regulations that your business must comply with when exporting goods by airfreight. Each of your consignments must be accredited to what is called a 'known consignor'. Known consignors are appointed by the Department for Transport (DfT). Check that the freight forwarder or logistics company you will be using has this accreditation. The goods you move will be 'known cargo' and will be able to enter the airport and be loaded onto the appropriate aircraft without any delay. There are aviation security guidelines on the DfT website.
Documents and Paperwork
The main document that all airfreight must travel with is the Air Waybill. These are usually issued to freight forwarders by the airports they have a relationship with as known consignors. In addition to the Air Waybill, your goods can also travel with the Single Administrative Document also known as form C88, the Standard Shipping Note (SSN), Export Cargo Shipping Instruction (ECSI) and a certificate of origin if you are exporting any animal or plant products. To avoid delays double-check that every one of your airfreight consignment has its full complement of paperwork before it arrives at the airport.
You might also like...