Locating Overseas Markets to Sell to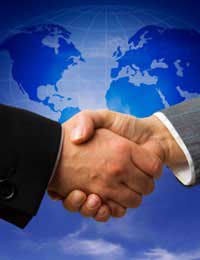 Many business when they begin to start selling overseas know the market they want to enter. However, if your business has international ambitions to move into Europe or beyond, but doesn't have a clear market in mind, this should not stop you expanding into new overseas territories. All your business has to do is locate an overseas market to sell to.
You can approach the location of a new overseas market in a number of ways including:
Market research
You can perform desk research that will reveal new markets in the overseas territory you want to expand into. The research that you perform enables your business to spot gaps in the current market that your existing services or products could fill, or that you could develop new products to satisfy.
The Internet is clearly your first port of call when conducting desk research into new potential markets abroad. Many business directories are now online and can be searched very quickly. Also general searches via Google etc. can reveal published research you may not have been aware of.
Competitor evaluation
Often you can enter a new market abroad by closely scrutinizing the activities of your competitors. Some of the most successful overseas marketing campaigns have not been to unveil new products or services, but improved versions of existing products or services that a business has developed.
Field research
In some sectors abroad it can be difficult to gain any insight into the market unless you actually ask the consumers that make up that sector. Hiring a field market research company can give you valuable data that could reveal a new market sector that has not yet been exploited.
Business data
Data suppliers like Datamonitor, Experian and OneSource gather information about companies and markets that can be filtered and interrogated in a number of ways to reveal potential new markets. Most of these services are fee based with your business paying a subscription. But if you intend your ambitions to enter new markets abroad to be a long-term goal, having these data resources instantly available could more than justify their costs.
Understanding a New Market
Once you have identified a new overseas market you could sell to, you now need to look again at the mechanics of actually entering that market with your business's goods or services. Ask yourself the following questions to decide whether your new market is worth selling to:
Is the market large enough?
Niche markets are just that niches in a larger market sector. Some markets are so small that there is very little profit to be had as so few products can be sold.
Is the market already saturated?
Some of the mass market products that are on sale abroad are from very large companies that have the luxury of economies of scale on their side. If the overseas market is too crowded, will your business be able to sell enough products to make a profit?
Is the customer cost too high?
Even though you may have located a new overseas market to sell to, can your potential customers actually afford the products or services you will be selling? The cost of entering a new overseas market could make your overheads so high, that the return on your investment is too low to justify moving into the new market at all.
Business Adviser
First hand knowledge of an overseas market can give you valuable insight that no amount of research could reveal. Using a business adviser that is based abroad can enable your business to gain a very focused understanding of the overseas market you want to enter. Contact UK Trade and Investment, or the British Embassy in the country you are interested in for a recommendation of adviser.
You might also like...