Logistics and International Trade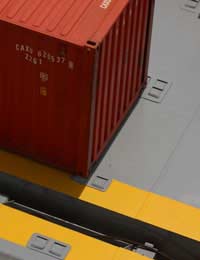 Developing an efficient logistics system for your business is essential to ensure your international trade runs smoothly. Being able to deliver the goods you are selling on time and in good condition is a major component of any international business. Choosing the right transport method and understanding the logistics process from your warehouse to your goods' final destination should not be underestimated. If you build a sound logistics platform, your international trade will be efficient to manage, and above profitable.
Choose your Transport
At the core of logistics is choosing the right transport method for your goods. You can ship your goods by air, sea, rail or road. Bear the key points below in mind when deciding what kind of transport is ideal for your business:
Do your goods need refrigeration?
Are there any special requirements if you're moving live animals?
How fast you need to transport your merchandise if it's perishable
How does the cost of the transport impact on your overheads?
Do your customers have any special requirements?
Where do the goods need to go? The country you are transporting to may not have a good transport infrastructure such as good roads or rail links
Help and Advice
The help that freight forwarders and customs agents can give to your business can mean they pay for their fees several fold. International transport is a complex system of customs controls as well as the physical movement of the goods you are selling. Often, several modes of transport are needed. This is where the experience of a freight forwarder can pay massive dividends. You can locate a freight forwarder for your business via organisations including: British International Freight Association (BIFA) for UK freight forwarders and the International Federation of Freight Forwarders Association (FIATA).
A freight forwarder can offer your international business a number of services that include:
The consolidate smaller shipments to save you time and money
They have detailed knowledge of the paperwork and regulations that your business must comply with
When transporting to a new territory, freight forwarders can act as a go between
Goods can often require transshipment or the use of multiple forms of transport to reach their destination. A freight forwarder has experience of organising these complex logistic movement of goods
When you start to look for a freight forwarder to handle your businesses logistics, ask yourself these questions:
Are they a member of BIFA? All members are covered by an insurance bond and follow the standard trading and best practice conditions
Do they have experience transporting the goods that your business sells?
Do they have experience of shipping to countries inside and outside of the EU?
Can they handle multiple modes of transportation if they are required?
To use your freight forwarder more efficiently it's a good idea to familiarise yourself with the Incoterms (International Commercial Terms) system. They are a set of rules that interpret commonly used trading terms. If you understand the Incoterms you'll be able to manage your freight forwarder much more efficiently.
Transport Insurance
International trade carries with it an element of risk. After all, you are shipping goods several thousand miles using potentially a wide variety of transport methods. To protect your business from any loss within the logistical systems you are using, insurance is absolutely essential.
Cargo insurance is available in three levels: A, B and C. A provides the most comprehensive cover, with C the least. The terms of sale and the kind of goods, plus the type of transport you are using will all impact on the type and cost of insurance you can buy for your consignments. Again your freight forwarder can be a great help as they can often consolidate consignments to reduce shipping and insurance costs.
Tracking your Exports
The logistics process you develop for your international trade have to be tracked to ensure customs duty is paid. When moving your goods you will need to use an electronic system called the New Computerised Transit System (NCTS). This system is closely linked to Community Transit in that NCTS is used to generate Community Transit documents that are used for customs procedures. It is vitally important that all of your consignments travel with a full set of documentation and that this is logged on NCTS. Your freight forwarder can be invaluable with these systems to help you avoid mistakes and delays.
Other Considerations
The goods your business is selling may require you to take special precautions or have specific transport to move the goods overseas. If you are selling dangerous goods, you may need special containers, or transportation. Consult the HSE for further advice. Transporting live animals also requires special containers. Defra can give you all the advice you need in this area.
You might also like...