Packaging Your Goods for Transport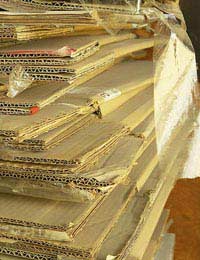 Packaging your goods ready for transport to their overseas destination is an important component of your international trade business. You must not only ensure your goods arrive at their customers premises intact, but also ensure you comply with all the packaging regulations that apply to each of the forms of transport you could use to ship your goods abroad.
The transport your use will generally determine what kind of packaging should be in place to ensure your goods can be handled efficiently and safely. You can read more about packaging on The Packaging Federation website. Packaging for overseas shipment falls into three overall categories that include:
Retail packaging
This type of packaging is the box or other container that your goods will use when displayed on the retailers shelves. This packaging also forms part of your marketing as the retail packaging should sell your goods to consumers. Remember that there are strict rules about labelling that your business must comply with.
Cargo packaging
Your retail items will have to be packaging in a secure outer shell so they can be loaded into a container or other transport packaging. Usually your transport provider will give you guidelines regarding how you can consolidate your retail items into fewer larger cargo packs to save on loading costs.
Transport packaging
The final layer of packaging you need to be aware of is the actual shipment container that will be loaded onto the form of transport you choose. This type of packaging can be a container for sea, rail and road shipment or a special type of container for air shipment. A freight forwarder can help you choose the correct packaging for each of your overseas consignments.
Labelling your Packaging
Each of the consignments you transport must be correctly labelled. There is legislation to ensure that the contents of each package can be clearly identified. Each of your consignments packaging must have the following information included on their labels:
The total weight of the package
Clearly identified if the contents of the package is a dangerous good
If any special handling instructions should be followed
The country of origin of the package
The destination of the package
Sequential numbering if the package is one of many
Waste and Packaging
There has been a conscious move over the last few years to cut down on the amount of packaging waste that businesses have to dispose of. Many countries now have regulations that govern how packaging waste should be handled. Check if the country you are transporting your goods to has any such regulations in force. Also, your business must comply with the Producer Responsibility Obligations (PRO) if your business's turnover is more than £2m and uses more than 50 tonnes of packaging material each year. More details are on the NetRegs website.
Food Packaging
The regulations for the packaging and transport of foodstuffs are very strict and detailed. The Food Standards Agency can give you help and advice when designing your packaging for transport. Also check with the destination country for any special regulations regarding specific foodstuff packaging you must be aware of.
Packaging Checklist
The packaging you choose for your overseas consignments must be chosen carefully to ensure your goods are not damaged, and can be moved from one form of transport to another. Use the checklist below to guide your choice of packaging:
Look closely at the goods you need to transport. This will guide you to the type of packaging you need to use.
Study the journey your goods will have to take. This will reveal the types of transport your consignments will need to use, and consequently what kind of packaging is appropriate.
Immobilise your goods in their outer packaging so they cannot become damaged when moved from one form of transport to another. Use filling material such as expanded polystyrene or wood wool.
Smaller packages will usually be shipped with others consolidated into one container for instance. Ensure the outer layer of packaging you use is sturdy enough to have other consignments stacked on top of it.
Check the packaging and shipment legislation of each country your consignments will pass through. There may be packing material that are prohibited in some countries such as wood based materials.
You might also like...