Understanding Incoterms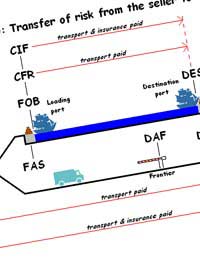 Incoterms the International Commercial Contracts are used to clearly define the contract that you have when trading internationally. All exports from the UK should be covered by an Incoterms contract to ensure that all parties trading together, understand the terms they have agreed.
The Incoterms document sets out who has agreed to take responsibility for the consignments that are travelling overseas. A typical Incoterms document will cover the agreed trading terms for insurance, transport and the payment of any customs duties for excise. This last point is very important as your business must clearly understand who is liable for paying any taxes when you are trading overseas.
There are an agreed set of Incoterms that many countries use (usually referred to as Incoterms 2000), but not all countries subscribe to the standard set. Ensure you have checked what version of the Incoterms your trading partners want you to use before you export your goods.
Incoterms in Detail
It is important to realise that using the correct version of the Incoterms that your trading partner would prefer can mean that any disputes that do arise can be dealt with quickly. The current standard set of 13 Incoterms breakdown into a number of general groups:
Group E (Departure): Incoterm EXW
This Incoterm indicates that you as the seller make the goods available to your overseas buyer at your actual premises. The buyer arranges collection and transport themselves.
Group F (Main Carriage Unpaid) Incoterm FCA/FAS/FOB
This incoterm indicates that you as the seller have agreed to deliver the goods to a carrier that will transport the goods overseas to the buyer. You have a number of options when exporting in this way: FCA (Free Carrier), FAS (Free Alongside Ship) and FOB (Free on Board).
Group C (Main Carriage Port) Incoterm CIF/CFR/CIP/CPT
This Incoterm indicates that you as the seller are responsible for the cost of arranging carriage of the goods you are trading with your buyer. Note that the risk of damage or the payment of additional money for other modes of transport other than the initial mode your business organises is paid by the buyer. Your main options when exporting in this way include: CIF (Cost Insurance and Freight), CFR (Cost and Freight), CIP (Carriage and Insurance Paid To) and CPT (Carriage Paid To).
Group D (Arrival) Incoterms DAF/DES/DEQ/DDU/DDP
This incoterm indicates that the seller has full responsibility for the goods that they are trading with the buyer. As the seller, these incoterms mean you bear all of the main risk when exporting goods to your overseas customer. You have a number of options when using these Incoterms: DAF (Delivery at Frontier), DES (Delivery Ex Ship), DEQ (Delivery Ex Quay, DDU (Delivery Duty Unpaid) and DDP (Delivery Duty Paid).
When you use Incoterms in your overseas trading business always ensure you are using a recognised copy of the terms. The current standard set of definitions are within the ICC (Chamber of Commerce) Publication No. 560. A full summary of each Incoterm can be downloaded from the ICC website.
VAT and Incoterms
In all cases VAT is
not
included in any Incoterms based contract you have with an overseas buyer. As in most cases VAT will be payable on the goods you are trading, you must agree in advance with your buyer who will pay any VAT that will become due when the goods enter the destination country. Always be aware that VAT on imports will depend on if the country you are importing from is a member of the European Union (EU). Exporting goods are usually zero-rated for VAT if they are supplied to a none EU country.
You might also like...