How Xenex Sells Overseas: Case Study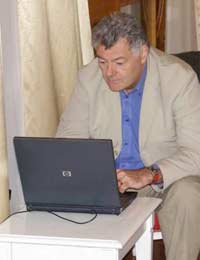 Xenex Associates was started in 2005 by Rob Fryatt to address a niche that Rob had a hunch was going to emerge in the increasingly international pest management industry.
As the market became more international there was scope for services that could assist companies to identify and capture international opportunities which they could not do alone due to their lack of market knowledge or industry connections.
Over the previous 10 years Rob had been working at a senior commercial level for large international companies. They could not move fast enough to capture opportunities, were highly focused on their own technology, operated one step away from the market through their own operating companies and appeared to be loosing interest.
Smaller companies were able to operate direct with local distributors, had the ability to move fast and derived all their business from pest management. To survive they had to grow and to grow they had to move into international markets.
Xenex understood the industry, had the relevant contacts and were able to build their business based on the trust and confidence that had been previously established. Finally, Rob had had enough of working for other people and want to lead his own company. Get up each day and decide what he wanted to do, be able to work with the companies he personally respected and add value to the industry.
Overseas Marketing
"Our marketing strategy has been simple: Make sure the industry is aware that you are there, that you add value and they come to you first for knowledge. The two aspects that drive this are:?"Firstly we have made it our business to be at all major international industry events, we take small exhibition booths and where we can add value we offer a presentation, not on our services but on a specific aspect of the development of the industry. If you are on the platform, everyone knows you are there, if you have a booth they can come and find you at their leisure.
"Secondly I write for all the major industry magazines. I have an opinion column in one, write features for another and offer contributions on a general basis. Again it is all about the industry not our services. As our Business Link advisor says "this is PR to die for" . We cap this off with our company strap: 'Shaping the Future of the pest management industry' – in six languages of course."
The China Question
"Like all international businesses should, we have China strategy. First step for us was understanding the market and get some local and UK connections. We used connections through our national industry association - The British Pest Control Association, worked with the UK T&I 'Passport to Export' programme and attended events on doing business in China. From this we found there were companies that knew China but not our industry, we knew our industry so partnership was the way to start.
"Our next step has been to be present at any international exhibitions in China. We will attend one in November this year and to set up a seminar at a target event to once again show our knowledge and understanding of the industry. We want to be the 'gateway' into China for our industry and the 'guiding hand' for Chinese companies looking west to Europe and East to the USA."
Overseas Sales Skills
"We have been fortunate to have the skills base we need within the team. These are based on experience of doing business in another culture, one experience feeds onto another, patience as decisions take longer and when we communicate in English, as we do most of the time, making sure we right plain simple English so that someone for whom English is not their first language will be sure to understand."
The Xenex Approach
"I think we just start from the point of thinking that the globe is our market and therefore we think and act that way. We invest in being sure we are ahead of industry thinking- Shaping the future – by keeping up with all product and company developments. Most of our clients don't think of us as a British company we are just Xenex to them. Even through we are relatively small we invoice in their preferred hard currency, manage bank accounts in sterling, Euro and US Dollars. They leave us to manage the issue of exchange rates."
International Advice
"Before you start you need to have an open mind to what might be different and be prepared to dedicate time to building relationships. Choose your first market carefully. Is it one that is close to visit, maybe conducts business in English. Maybe Scandinavia is a good place to start, small markets that generally have higher prices and look for the highest quality. Look at the skills you have in the team, many companies have skilled workers from Central Europe who could be better used focused on their home market.
"If you have already chosen the market you want to target, do your homework. Read about the culture and country, a good place to start are quality travel guides as they often talk about history and culture - This is so important to many 'new' and developing countries. Use your industry association to make connections, they will often know the affiliate industry association. Try to get local industry magazines, they may tell you about who the competition may be, this can be dome through good Internet searching. Finally get on a plane if there is an industry event, there is no substitute for being in the country and within the industry, your knowledge will grow exponentially very quickly."
You might also like...